Visit to Book Fair
A visit to Balrampur Gardens Lucknow on 1st of October 2023
A Book worm's Paradise
SRMPIANS had a jaunt to book exhibition organised at Balrampur gardens Lucknow. It was really good to visit after the term one examinations got over and all students were excited. Reader's Paradise offered them a vast span of books. Students purchased story books ,encyclopedia ,motivational books, competitive books and other fiction books. A day of contentment for the bookworms. All had wonderful experience there.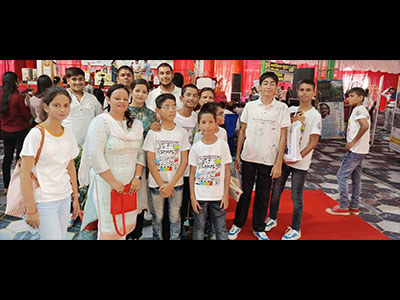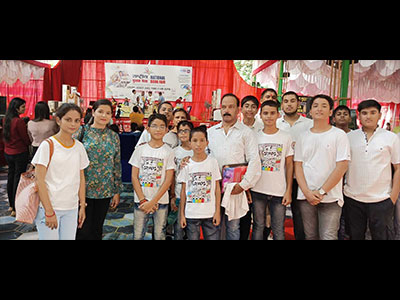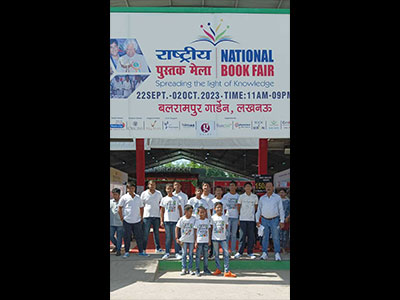 Visit to Rajkiya Abhilekhagaar Exhibition
**A visit to Rajkiya Abhilekhagaar Exhibition on 19 th of August 2023**
*"I believe in a religion that propagates freedom, equality and brotherhood"--Chandrashekhar Azad*
Our country is paying homage to revolutionary leader and fearless freedom fighter Chandra Shekhar Azad on his birth anniversary. Azad was one of those freedom fighters who gave nightmares to the British administration during the struggle for Independence.
Shri Ramswaroop Memorial Public School organised a visit to Rajkiya Abhilekhagaar Exhibition for students of class -10 on 19 August 2023 . Exhibition is held from 23 July 2023 to 23 August 2023 in lieu of Shaheed Chandrashekhar Azad birthday under Azadi ka Amrit Mahotsav.
The objective of the exhibition is to provide knowledge to students about our brave and courageous freedom fighters so that they can get inspiration and contribute to make our nation self dependent and strong.Future of our nation is in the hands of these students,if they are proud of our glorious history and know the strong foundation of the nation ,they will be proud to be a part of the progress.
SRMPS believes in developing it's students to become fearless, courageous and brave nation lovers and this visit continued the tradition.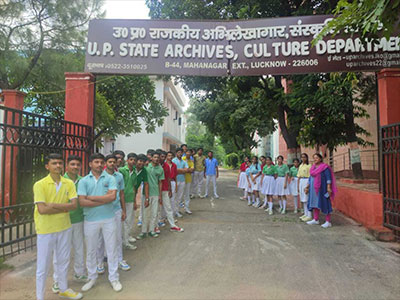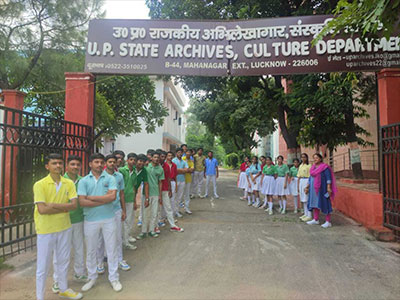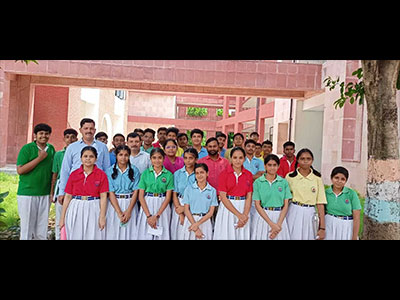 Visit to Britannia Industries Ltd
Shri Ramswaroop Memorial Public School organized an Industrial visit for their senior students to the Britannia Industries Ltd, at their Biscuit manufacturing unit located in Barabanki district on 17 August 2023.
The visit aimed at teaching the students about the practical aspects of operations management. The various aspects relating to supply chain, procurement management, and storage facility were learned by the students. The exposure helped students to gain insights into how the manufacturing unit operates with various functions attached along with it. The visit intended to imbibe the students with real-time experience on the managerial aspects, operations in a company, and understand the systems and processes of various biscuits and snacks produced by Britannia industries. The scheduled visit was fun-filled and a great learning experience for the students as they gained knowledge on the unique process and systems that Britannia Industries had adopted.
Students gained the knowledge and able to understand the following:
1) Products of the company
2) Processing of Products from raw materials to final Product.
3) Latest machinery set up and equipments
4) Good Manufacturing Practices.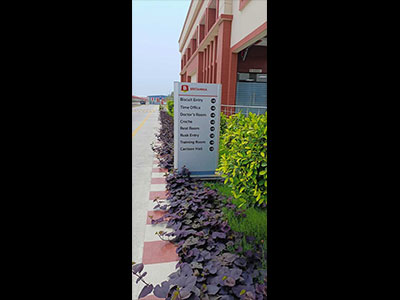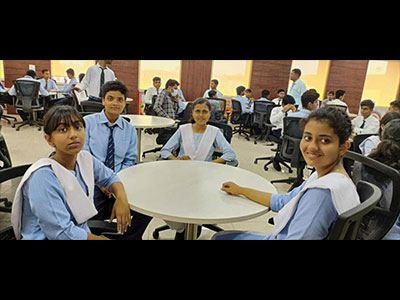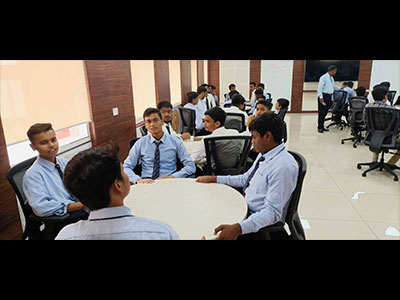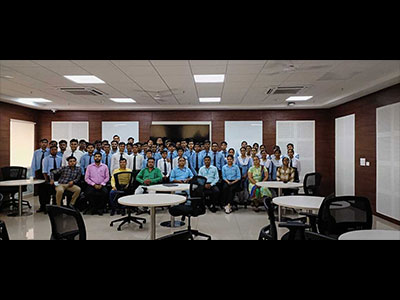 Defexpo
We are extremely happy that a team of students was accompanied by the educators, Mr Bhatt and Mrs Alka kapoor to Defexpo, Gomti River Bank on 6th January 2020 under the guidance of the Principal, Dr. Prashant Vasudeva.
Defexpo gave an idea about the comprehensive spectrum of India's aerospace, defence and security interests. We also aimed to show India's potential as a global defence manufacturing hub to our students.
Students were overjoyed to witness the cultural programme, various band performances and stalls having different ordinance and ammunitions used by defence.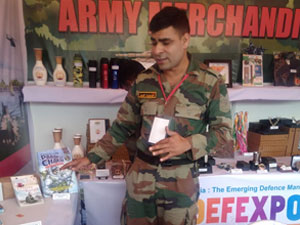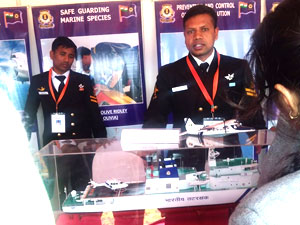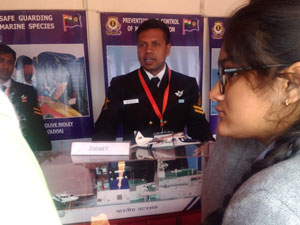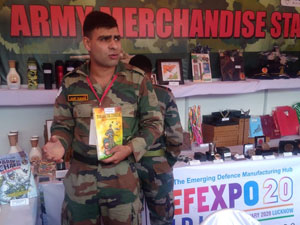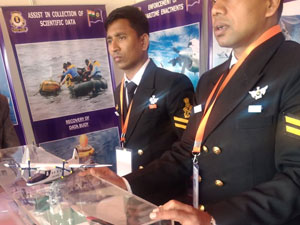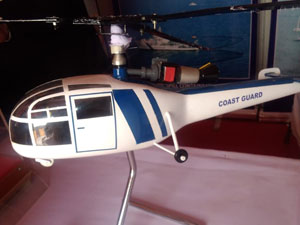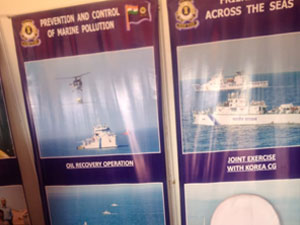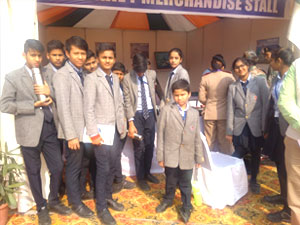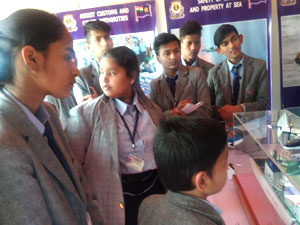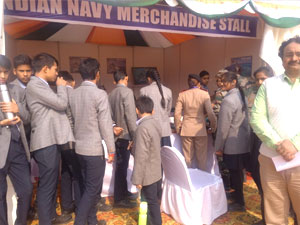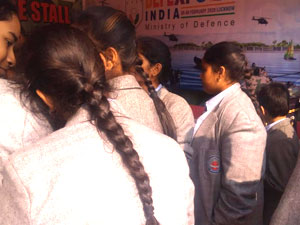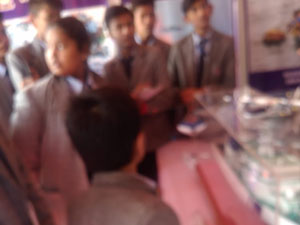 Exciting trip to Manali
Traversing the lofty hills and the splendid valleys of Himachal Pradesh, the students of SRMPS along with few educators travelled to Manali and nearby areas via Chandigarh for their annual trip in the first week of October. The trip was organized by Edu Travels Pvt. Ltd. and lasted for 4 days.
Manali and its nearby places are truly a nature lover's paradise. These places promise an abundance of scenic beauty, temples, monasteries and a lot of adventure activities for visitors. Our journey began on 2 October's night when we boarded the train for Chandigarh at 10.25p.m.We used Chandigarh as the nodal point from where we began our road trip into Himachal the next day i.e. on 3rd October. Since, our hotel was booked in Manali; we began to cover the journey from Chandigarh to Manali by bus including a couple of brief stops and a main stop for lunch at 'Zimmedara Haweli'. We reached Manali at around 1 a.m. in the night and took our lavish welcome dinner organized by the tour operator Mr. Danish in the 'Hotel Daffodils'. The next day at 9 am after breakfast, we took a day trip to Rohtang pass & Solang valley. In the mid of journey, our buses stopped at a shop wherein everyone was supposed to take a snow suit on rent to wear and visit Rohtang as it was extensively cold. We found amazing sights that greeted us at every turn and every mile of our journey became joyful. When we reached Rohtang, we proved to be extremely lucky as found snowfall there. Children and adults; all enjoyed and played with snow and got a number of pictures clicked. We returned from there at around 4.15 p.m and reached the hotel at 10.10pm cause of heavy traffic jam. The other day, we went for trekking, saw waterfalls, apple gardens, etc. Later, post lunch, we visited some places within/near Manali - the Hadimba Devi Temple, the monastery and the Mall Road shops where almost everyone purchased winter wear at attractive prices. Finally, around 8p.m. we returned our hotel and got ready for bone fire and Dj night.
We visited Himachal during what is referred to as "off season". Happily for us, the weather was wonderful- cool and sunny on all days except one afternoon in Manali when it drizzled during our visit to the market. And the usual spots were un-crowded. We passed by the origin of the Beas River, feasted our eyes on the scenic valleys and pine forests, spotted a few beautiful waterfalls and even some local wildlife on the way. On top of that, with business being slow, bargaining power was in our hands – from fun activities to shopping!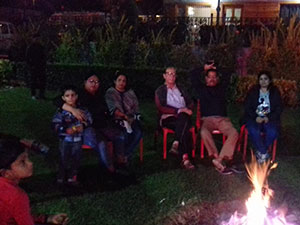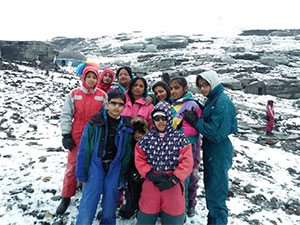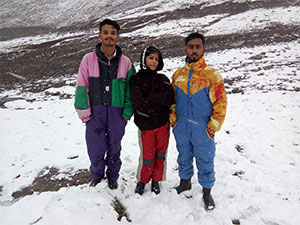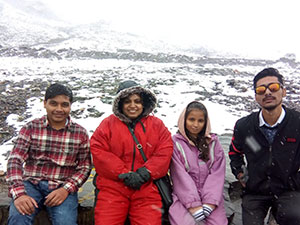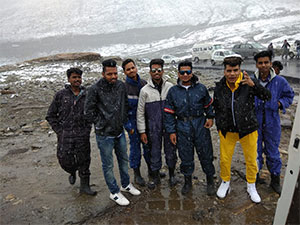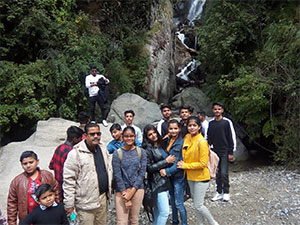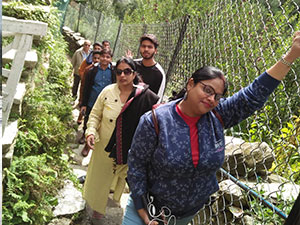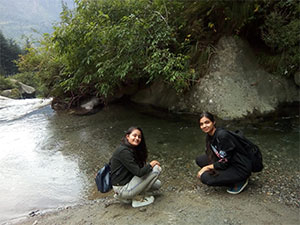 Visit to The Fish Breeding Farm
It was a pleasant morning of 8th of July' 19 starting with a slight showers of rain when the school visited a fishery and hatchery where we had a lot of fun and gathered knowledge all about fishes.
The trip started on the small journey with a wilderness and craziness for joy. As all the students reached the fishery, they saw a hatchery were fishes were injected and were left isolated for further breeding. After sometime, the owner of the fishery himself guided everyone, to each and every place after seeing the eagerness of the students. He also showed us some sites which were developing to provide all the facilities needed for scientists all the way from japan. They were collaboratively working to make it India's First Fishery Farm where scientists from abroad come to study and research Pisciculture. The students also observed fishes like Katla, Rohu and fed them. As the fun was over everybody came back to school with a lot of knowledge for future that can create an impact on Human Science.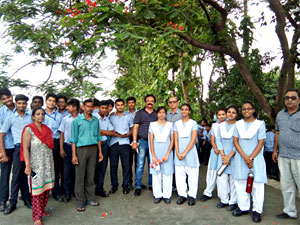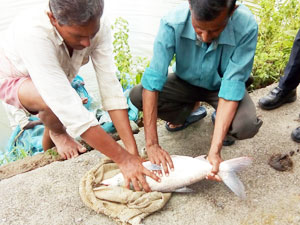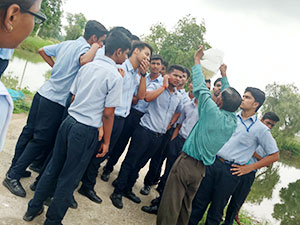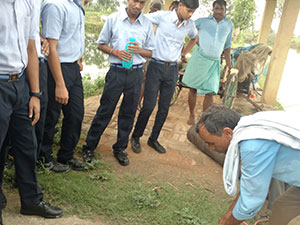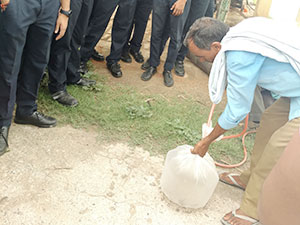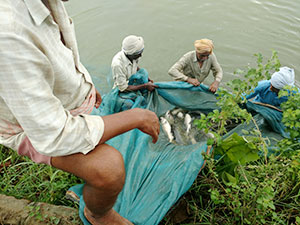 Visit to Faizabad (Field Trip)
On the beautiful morning of 27th July' 19, at 3 a.m. Students of classes 11 and 12 (all streams) including educators from Shri Ramswaroop Memorial Public School got an opportunity to visit the Faizabad city in the course of an educational trip. The day began by watching the Passing out parade at the Dogra Regimental Centre at 6.30 a.m. There was a moment of hush as the students saw the cadets marching dressed smartly in their uniform, in proper coordination and discipline. The students were highly influenced during and after the parade. After the parade was over, children were taken to Shankla Museum and War memorial under the guidance of Army officials present on the spot. At 9.30, students were taken to Guptar Ghat, because of its mythological importance and the picturesque view of river Saryu dotted with several ancient temple which is breathe taking. Thereafter, at 10.30, everyone reached to Jingle Bell Academy to exchange the educational culture and play a friendly Football match. After, the interaction with the Jingle Bell students and educators, a football match was played with great zeal, zest and sportsmanship wherein both the teams performed well. Post-match, all were served lunch and thereafter, the returning journey began at 2p.m. Overall, the trip was all of soothing pleasure. Lastly, the students thanked the management specially the chairman, Shri Laxmi Narayan Agarwal ji, Principal Major Rajesh Ranjit, and the educators who accompanied without whom the trip wouldn't have been possible.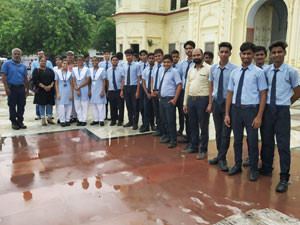 Visit To A Cricket Stadium
13th July, 2019
Excitement, Adrenaline, Joy and Energy: These are all things that come to mind when thinking about a cricket stadium. One of the most impressive cricket stadiums that students have ever been to is, "SKD ACADEMY". Entering into the stadium students were overwhelmed by the size, and beauty of it massive structure of the stadium. The first thing they noticed when entering the stadium were the players who were practicing over there. There were so many of them, most of them were wearing blue and white uniforms of SKD ACADEMY. It was beautiful, how they all looked the same. Then the Coach Mr. S.P. Das instructed students to make a team of 11 players so as to compete with them. In excitement for the match, quickly a team was made and went into the field. It was the match of 5 overs. All the players gave their best but unfortunately SRMPS lost the match. After the match Academy's coach lined everybody and told the faults and motivated.
At last some pictures were clicked with the players of SKD ACADEMY. After that everybody enjoyed snacks at the canteen and finally came back to the school at around 1pm.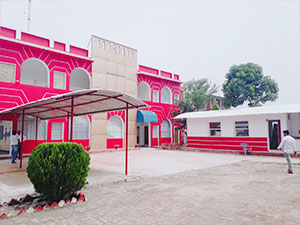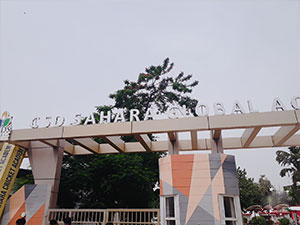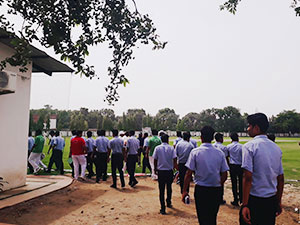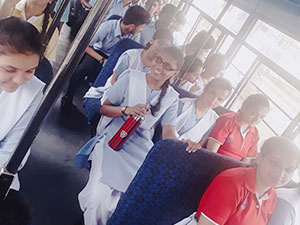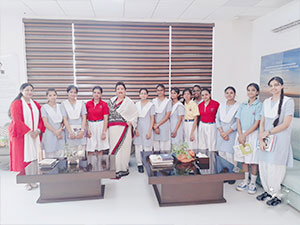 Visit To Central Institute Of Scientific Research (CISR)
It was a cloudy and pleasant morning of 12th July, 19. The students of SRMPS from classes 6th to 12th along their teachers went on a field trip to Central Institute of Scientific Research (CISR).
The field trip started at 10am from the campus by bus. Students after reaching saw a huge campus of CISR. After entering the place, 3 volunteer guided all the teachers and students across the campus. The campus was all about the medicinal plants which were useful for the welfare of humans. The volunteers then showed 'Manav Garden' where they had planted so many trees and plants which were beneficial for the human body and organs. The plants they had planted were Tusli, Bhringraaj, Baala, Kaalmegh, Antmul, etc. These plants were of different uses to human body and helps to cure many diseases. Then the students went to the production chamber of CISR where they got to know how they manufacture the plants and trees in the form of oil or paste for use. Our school was fortunate to bring some herbal products of CISR to be planted in the school campus.
At last everybody headed back to school and reached the school campus at around 2pm. The trip was very knowledgeable.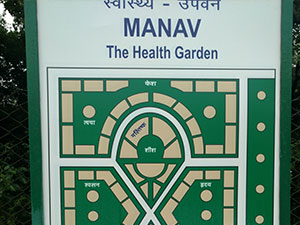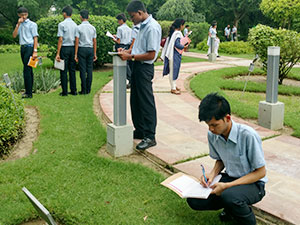 A Field Trip to Green House
A field trip was conducted on 20TH April 2019 to green house near Papnamau in Lucknow. The students had visited there with great enthusiasm. They saw a Green house where capsicum, cucumber had been planted. They witnessed drip irrigation method of water supply through which plants get water drop by drop instead of filling the whole field with water. In green house they used organic fertilizers.
Green house is a structure with walls and roofs made chiefly of transparent materials such as glass in which plants require regulated climatic conditions. These structures range in size from small shades to industrial size buildings. The interior of a green house exposed to sunlight becomes significantly warmer than the external ambient temperature protecting its content from cold weather. The glass green houses are filled with equipment including screening installations, heating, cooling, lighting and may be controlled by a computer to optimize conditions for plant growth.
After this the students visited to Abhayanand Ashram near to that green house. This is an organization which is working as an occidental gurukul where they follow the Indian culture and traditions. They teach Vedas with other teaching subjects like math's and Sanskrit. They also had a 'gaushala' and an organic manure forming unit. They were also doing garden farming inside the Ashram.
This was a great experience for the students as well as teachers who came to know different methodology of farming and irrigation. On one side we came to know about the latest stuffs of science and on the other we also learnt about the glorious Indian traditions which have gone down from the history of India.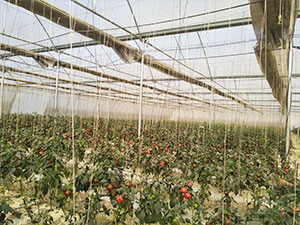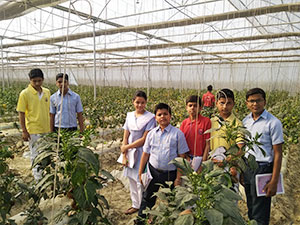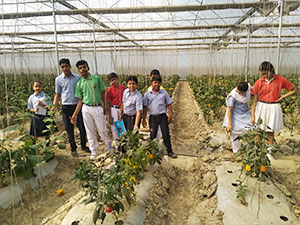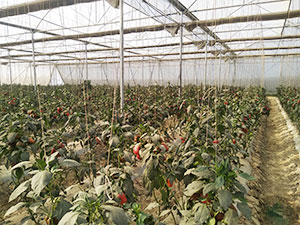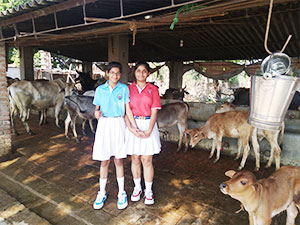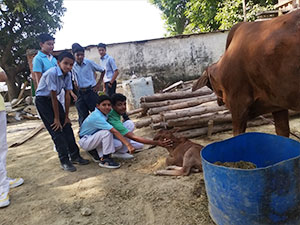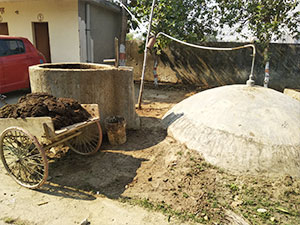 The Metro Ride
Primary students were taken on field trip on 9th of April 2019.
There were around 30 students accompanied by 7 teachers to the Metro Station. Journey began from Munshipullia Metro Station and ended at Sachivalaya Metro Station. Students observed many things through this trip. They saw many computerised machines, automatic entrance doors, vending machine and maps showing various stations covered by the Metro.
Trip was very informative for all the students. They were made aware of the whole system by the Metro Station's Officer In-charge.
It was joyful trip as well as an informative activity.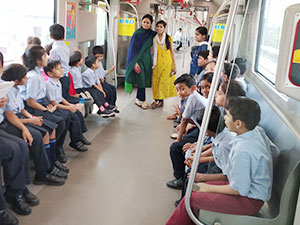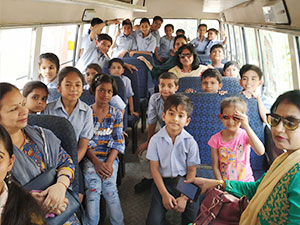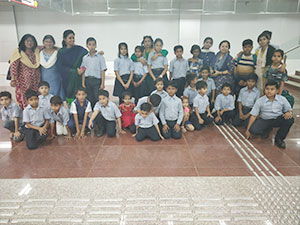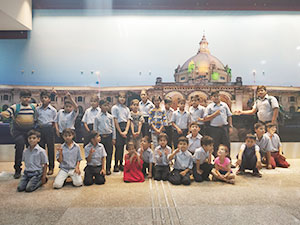 Lucknow Darshan By Primary Students
The excited group of SRMPS primary students went for an educational trip to the historical and famous monuments of Lucknow. The children had a trip to old Lucknow where they visited bara Imambara and Shaheed Smarak Park. The children were awestruck to see the great architecture of the Nawabs.
They saw the beautiful Imambara of the Nawab Asaf-ud-Daula and the architecture of Kiyafatullah. The pitch darkness of Bhool Bhulaiya was the scary adventure for the children as the group of frightened voices matched the pitch- darkness. After Bara Imambara they went to Chota Imambara after a little glance of Rumi Darwaza. The Chota Imambara was a perfect beauty with the reflecting pond was the icing on the cake. A couple of beautiful Mosques added glamour to the beautiful building. They saw some beautiful 'Taziyas' . The Quran was encrypted on the walls of the Imambara. At last they visited the Saheed Smarak Park. On the way back they saw the Begum Hazrat Mahal Park, Isabella Thorbon College, Colvin Inter College and The Lucknow University. It was an energetic and enthusiastic day for the students of the SRMPS.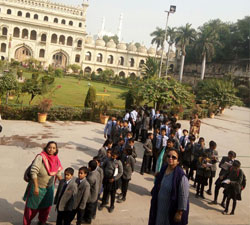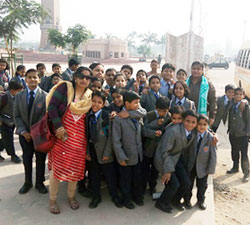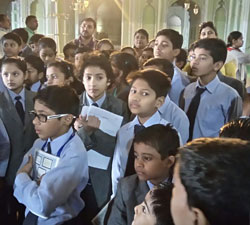 The enthralling trip to Rajasthan
A school trip was organized for the students of Shri Ramswaroop Memorial Public School , with a total of 171 students . The Boys and girls together had a gala time in the Royal state of Rajasthan . The beauty of Jaipur, Pushkar and Ajmer is awestruck and its journey is indeed a breathtaking experience . The journey started on 9th of October 2016 and continued till the morning of 17th October 2016 . The six days tour has surely become an indelible memory for each heart , the recollection of which will remain a part for rest of their lives . The students checked in to the Holiday resort, every bit of which showcased the traditions of the state . Jaipur welcomed the group with open arms where they were mesmerized by the beauty of Albert Muesum , Birla temple , City Palace and Hawa Mahal . Thereafter they offered prayers in two of the famous places- the mosque in Ajmer and the oldest Bramha temple in Pushkar . Raj Mandir very easily took away three hours as they saw M.S.Dhoni the untold story there . As all good things reach to an end, so did this trip. The students had fun doing Rain Dance , Water rides , Camel Safari and many more rides . It is said, "all's well that ends well" . This surely stands true as the trip ended with cool shopping . Thereafter all the three buses departed for Lucknow bringing an end a fabulous and enriching tour .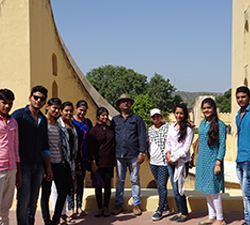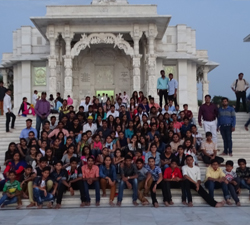 Scimax Show At Science Center
Shri Ramswaroop Memorial Public School students of class IX went to the Regional Science Centre, Lucknow on August 07, 2014. It was the inauguration ceremony of the documentary on Antarctica. Vice Chancellor of Lucknow University, Prof. S. B. Nimse was the chief guest of the function. Students of SRMPS were privileged to participate in this ceremony. They felt the shivering temperature of minus 128.56 degrees Fahrenheit (minus 89.2 degrees Celsius) without being physically present in Antarctica. And the documentary was presented on an oval shaped screen in the SciMax theatre of Science Center.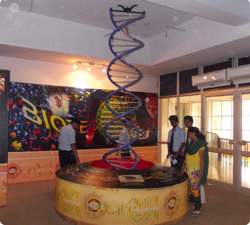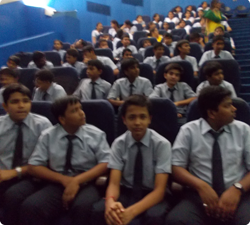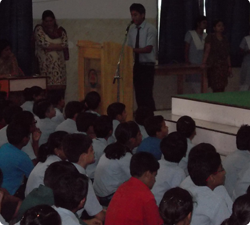 International Cross Cultural Learning Held on July 4, 2014
An exclusive International Cross Cultural Program was held in Shri Ramswaroop Memorial Public School on July 4, 2014. The program was held in collaboration with "Compassion India" – unit of an NGO – Zion Sewa, based in Lucknow. The delegates, 22 people from US, Japan, South Africa, Zambia, Philippines and India, who are now based in Dubai, ranged from 7years to 48 years. They were greeted traditionally with kumkum on their forehead and sprinkling of rice grains. Ab-initio, a lamp was lit to invoke the blessings of God. It was then followed by Ganesh Vandana.
The program began with an introductory speech by Mr. Raj Shekhar, the leader of Zion Sewa, Lucknow. He gave a brief description about his NGO. Thereafter two videos one depicting Indian culture and heritage, and another modern India was shown to the guests so that they could have a glimpse into the past and culture of India. Thereafter one member from each country gave a description about their homeland that included the geographical location, flag and the places to visit in their country. Several songs and plays was presented by them depicting their cultural heritage. At the end there was an interaction between the delegates and the students of our School. They had many interesting questions related to the countries the guests came from.
The motto behind organizing this program was to develop cross cultural learning amongst the students and to ensure that they can adapt and fit into a culturally diverse global culture .Every one welcomed the opportunity to learn more about the geography and culture of other countries.
The program was concluded by a vote of thanks by honorable Principal Mrs. Poonam Kochitty. The guests were overwhelmed with the hospitality of our school.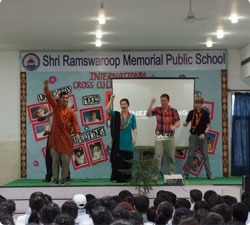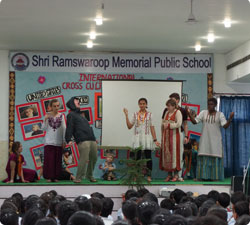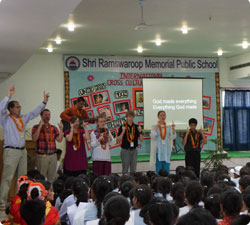 D.M. Interacts with the Children @ Shri Ramswaroop Memorial Public School
Mornings come with new hopes and Tuesday morning of SRMPS was not an exception. On the gracious presence of young & dynamic D.M. of the city, Mr. Raj Shekhar, infused the new zeal and enthusiasm among the children of SRMPS on 13.5.14. He counselled and motivated the children to serve the nation by entering into the most prestigious and noble profession of Indian Administrative Services. He shared his journey of hardships and success with the children. He briefed the students about the selection procedure and criteria in Indian Administrative Services.
He urged the students to dream big. Our DM concluded the discussion with the inspiring words "There is no shortcut to success and nothing can replace the hard work". He urged the students to dream big.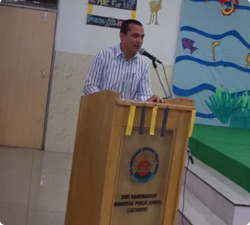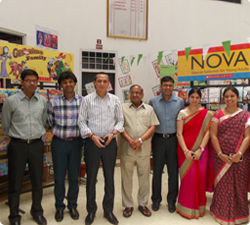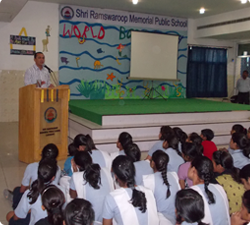 Voter Awareness Campaign
Voter's Awareness Campaign organized by the students of Shri Ramswaroop Memorial Public School at Inox mall on 18th April, 2014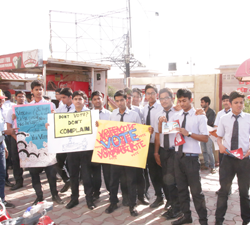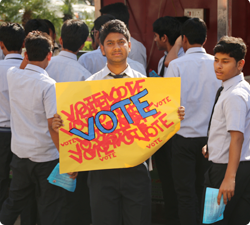 International Children Film Festival in C.M.S.
Fri,2 May 2014 at 9:45 a.m we moved from the campus to CMS LDA branch to witness the 6th International Children Film Festival. The Chief guest Mr. Shashi Vyas, Dr. V. Kurien were present there.We enjoyed the movie 'Bharat Bhagya Vidhata' directed by Mr. Sashi Vyas. The Movie was based on the theme 'Where India lies'.
Teenagers feel that India exists only in the cities but after watching the movie we realized that the real India lies only in the villages.
The second movie was an animation named 'Gopi Gavaiya and Bagha bajaiya' . This movie is based upon the moral that 'happiness does not lie in war but living together in peace. At 3:00 p.m we returned back to the school campus we also met with Taptesh and Khushi who are renowned child actors.
Students of classes –XI to XII had an exposure on April 26, 2013 to National Botanical Research Institute as apart of education visit .The length and breadth of NBRI ,was adorned with all variety of plants ,some plants as small as insect to some plants dating back to the 19th century .NBRI was divided into several section, each section dealing with particular variety of plants .we scrutinized the leaves of plants some with peculiar shape which are rarely seen . Plants were divided into rare. endangered endemic etc.
The cactus house had a plethora of cactus, not less than 30 types of cactus, and some ranging up to 10 meters tall. Bonsai house drew a lot of interest/------ since the trees which all very giant were converted into small plants planted in pots . Plants displays here dated back to 1930. One of the Peepal tree was just 1 meter tall. Other sections included palm house, moss house etc. we had a lot of frolic in the moss house since water was sprayed on us from the top . It was a way to water moss plants. It came as a cool reprieve on chat suttery afternoon. Being surrounded by the emerald like trees made us feel as if we were in another world.The evening had its own charm. Student had a chance to talk to one of the most eminent scientists of India, Pro f, Y.K Rajan. who is Padma Shree Awardee too.
He explored our mind and threw light on India's future and our contribution .he discussed about some fragmatic approach. he developed an extra science acumen in us. After his steering talk , student shot a volley of question to him which made the session even more interactive and engrossing. It was a pleasure listen this marvelous scientist and a great experienced to meet this stalwart who developed a scientific acumen and inquisitiveness in us. This experience will be cherished by us throughout our lifetime.